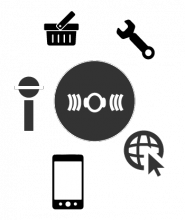 Personal Soundscapes is a hands on project. – You can do audio recordings with our Personal Soundscapes smartphone app or just use your own recording gear to send us fragments of your acoustic everday.
This website allows you to search, to collect and to download soundscapes of all users of this project. The result is a pool of audio files, that could be used to build your own soundscapes composition.
Become a soundscape and participate now !